Reliable and environmentally friendly materials for construction
Current buyers began to pay more attention to the structural elements of the houses, to new modern construction technologies. People who start building a country house today know the order of prices and, as a rule, have consistently high incomes. They build a house for a long time and seriously, and therefore the main trend in the construction and finishing of cottages is the use of expensive, reliable and environmentally friendly materials.
The first place in popularity among building materials is brick. It is one of the most common materials traditionally used in the construction of buildings and structures in Ukraine. 48.3% of owners build and buy houses from this material. The main advantages that distinguish brick houses and cottages – strength and durability. Today, a brick cottage is an example of the most reliable investment in suburban real estate. Because, the walls themselves in this case are proof of the solidity, attractiveness and liquidity of the building.
So, according to the statistics of country houses sales , in the first place are still brick cottages.
The second position was taken by the natural attraction of suburban developers to the wood (and there are about 21%). As changes in modern architecture have occurred not only due to the emergence of functional and compositional solutions, but also through the use of previously known materials in new qualities, including wood, due to the introduction of new processing technologies, the natural origin of the material is finally successfully combined with the practical side.
The third position is occupied by houses made of blocks (foam and aerated concrete) and houses built on frame (Canadian) technology, which is 18.7% of the total number of private buildings. However, this technology is popular not because of the quality, practical and environmental benefits of future residents, but because of the lower cost for the developer compared to other materials. 7.8% of developers prefer to build apartments from stone or monolith. A significant advantage of a stone cottage construction is a set of  facade finishing options: facing – a decorative stone, a brick, a tile from natural or artificial materials, plaster of different colors and textures, stucco ornaments, etc. The architecture of such houses differs in special expressiveness, a variety of forms – from avant-garde round to a classical estate.
Environmental friendliness of wooden housing and fire resistance, strength and architectural expressiveness of brick – are the best combination of combined houses. It all depends on the purpose of the room. Usually, the sleeping area is located in the top wooden part of the house, and the first floor can be processed by a facing brick, a natural or artificial stone, to plaster. Demand for combined houses is now 4.2%.
The structure of demand depending on the materials.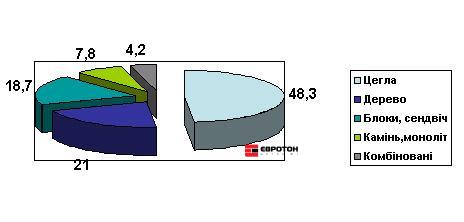 Therefore, the achievements and further development of the construction market today makes it possible to implement the boldest architectural ideas.
What is it, the house of your dreams?
Sound and stylish, reliable and comfortable…
If so, then it is only a matter of choosing the building material.
What is better: wood, brick, other modern innovations of the construction industry?
Because particularly walls:
protect interiors from cold, heat, blowing, atmospheric precipitation and noise, greatly contribute to maintaining a comfortable microclimate;
carry the load from the floors and roof and transfer it to the foundation;
are the decoration of the house,
therefore, the wall material must be:
strong
environmentally friendly
durable
vapor permeable
moisture resistant
frost-resistant
fire resistant
soundproof
energy saving
aesthetic
Construction is an expensive process and it is not surprising that the developer is meticulous in search of reliable material.
But in order not to get into a situation where the stingy pays twice, you should know what you can lose by saving on important things.                      
WOOD
It has long been believed that person feels most comfortably in a house whose walls are made of wood, the most environmentally friendly material. Such a house in winter – warms up quickly, in summer – protects from heat, at high humidity – absorbs water vapor, and if the air is dry – refreshes it, "giving" its own moisture. However, the high sensitivity of wood to moisture causes constant deformation and cracking in wooden beams. In order to eliminate this imperfection, one should use a technology, which involves pre-drying the wood in special chambers and treatment with various protective substances, which significantly increases the cost of construction.
Particular attention should be paid to preventing damage to wood from rot and fungal infection. Wood should be treated with special chemicals that will protect against microorganisms and enhance fire protection, because wood is the most flammable building material. It is clear that such substances do not improve the environmental friendliness of housing. Contrary to the established stereotype, the wooden house – is not a cheap pleasure and concerns rather elite habitation.                                              
CERAMIC BRICK
Ceramic bricks are obtained from natural environmentally friendly raw material – clay, by firing in kilns. Due to the influence of ultra-high temperatures during firing, all existing ingredients of the charge are sintered and voids are compacted, providing the ceramic brick with minimum porosity and moisture absorption and the highest strength (clinker up to 500 kgf) compared to other wall materials.
A unique natural material – ceramics has a microcapillary structure, so the walls have the opportunity to "breathe", creating comfortable conditions for residents. According to the level of living comfort, houses built of ceramics are in the 2nd position, second goes only to pure wood.
Ceramic brick walls are aesthetic, durable, withstand loads very well. With proper masonry, the service life of ceramic bricks exceeds 100 years without loss of external attractiveness and does not require additional processing, and clinker ceramic bricks generally have an indefinite service life, its frost resistance is about 500 cycles. Ceramic brick houses are those that can be inherited over the lives of several generations, at least 100-150 years, making only minor repairs. Ceramic bricks are used for masonry of external and internal walls of houses, for facing, for internal repair works. The small sizes of a brick and a variety of forms, colors, textures of a front surface, allow to build walls of difficult configurations, to lay out decorative elements of a facade. It is also allowed to use this material for the arrangement of foundations and plinths of buildings. Due to the fire resistance of the brick, walls can be built close to the stoves and fireplaces, inside the brick walls can be laid smoke and ventilation ducts. Today, clinker ceramic brick is considered to be elite, which is superior to any wall material available on the market in terms of quality, and is used for cladding houses.
With high durability, strength and frost resistance (especially in clinker bricks), good insulation (especially in hollow bricks) and excellent appearance (in clinker and cladding), ceramic brick is currently the most common wall building material.                                                                     
CERAMIC BLOCKS
New for the Ukrainian market and very promising wall material – ceramic blocks, made from natural raw material – clay. In order to obtain a porous structure in the production process, crushed wood sawdust or other organic components are added to the clay mass, which burns out during heat treatment, forming a large number of closed microvoids. Ceramic blocks have extremely high thermal insulation properties. This is the only ceramic wall material that allows you to build the walls of houses with a thickness of 38-64 cm without additional insulation, and it is ideal for plastering or facing bricks. Ceramic blocks are more cost-effective than ordinary bricks. With low weight, they allow you to use a simplified foundation design during construction, which saves money and time. At the same time the ceramic block keeps stability and durability of a usual brick.
The structure of ceramic blocks allows to achieve a balanced combination of low thermal conductivity and high strength ("brand"). The block is simpler in a laying technology that allows to reduce terms of construction in 3-5 times. The large size of the block and no butt joints make it possible to reduce the cost of the solution in 3-4 times.                                      
SILICATE BRICK
Silicate brick is much inferior to ceramic brick in terms of living comfort, thermal insulation and frost resistance, but has a lower cost. Silicate brick is used in the laying of load-bearing walls and various partitions, but it is strictly forbidden to use it when laying the foundation, putting stoves, fireplaces, pipes, plinths, etc. Silicate brick has a high water absorption, so it is better used for construction in areas with low humidity, as well as decoration in the outer walls of burnt red brick.                                            
FOAM CONCRETE (pore concrete)
In terms of strength and frost resistance, foam concrete is inferior to brick and ceramic blocks. The sound insulation properties of foam concrete are high due to the large number of closed air pores (75-85% of the volume), but to ensure the optimal level of thermal insulation, the walls must be additionally protected from blowing, external finishing, or brick lining while strengthening the structure. Due to the high rate of water absorption, foam concrete walls need protection from moisture.
The large size and light weight of foam blocks simplify and speed up construction and installation work, in addition, foam concrete is easy to process.
The ability to manufacture the material on the construction site is an additional advantage, but has significant shortcomings in quality characteristics: loss of initial volume and shrinkage during drying. Low formwork strength leads to a large percentage of defects in work (warehousing, technological transportation), which negatively affects the cost of manufactured material.
AERATED CONCRETE
Due to the low thermal conductivity, aerated concrete provides good thermal protection of the house, and due to the high porosity (80%), the strength of this material is quite low.
Over time, aerated concrete changes the properties of the material and then the water absorption rate can increase from 8% to 20%, so this material has a tendency to accumulate moisture in the body of the walls.                      
THERMO CONCRETE
The house made of thermoconcrete does not let heat or cold from the outside, and also does not "breathe", blocking the free passage of water vapor accumulated in the room, to the outside (thermal homes are called "thermoses"), so forced circulation and air conditioning are not necessary. 
Thermal concrete has low sound insulation properties, although thermal insulation performance is higher than that of concrete or brick. Over time, in thermoconcretes there is a change in the porous structure, there is a flow of structure-forming and sometimes destructive processes and as a result – a change in material properties. The strength of thermal concrete has the lowest rate among other wall materials. Thermal concrete walls require additional internal and external finishing.                                                        
SHELL ROCK
Shell rock is a natural material that is mined in quarries without requiring a high-tech process that reduces its cost. Features of the structure and components of the material provide to shell rock quite a high compressive strength, but over time it is subjected to corrosion.
The porosity index of 60% provides good heat and sound insulation of the material.
Shell rock has a uniform color tone and structure, it is easy to saw, trim and easy for various treatments.
In this article, we do not provide a complete list of existing wall materials on the construction market, as their diversity is outlined in a significant number. We talked about wood and brick as the most traditional representatives of housing, and briefly introduced you to the properties of wall materials that have appeared on the Ukrainian market recently.
Which building material you choose for your home, you decide, and before you start construction, you should get qualified expert advice, because in each case you need to take into account not only your personal preferences, but also the landscape and climatic features of the region.